Scholarship Programs to 10 ASEAN Member States for learning Japanese Food Value Chain.
This is a continuing project to the parent project for Human Resource Development in Food-related Areas through Partnership with Universities in ASEAN Region.
The Scholarship Programs is compromised by 2 programs of visiting Thailand and Japan, funded by Japan-ASEAN Integration Fund (JAIF). This project will complement and advance Food Value Chain (FVC) development and Human Resource Development in the ASEAN community. Also, It can create more competent ASEAN human resource and narrow the development gap within ASEAN.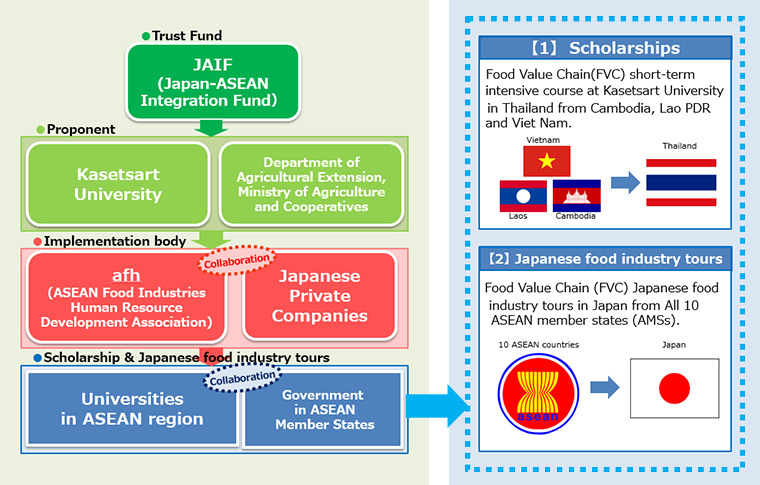 Scholarship Program to Thailand
Scholarship to Kasetsart University in Thailand
Scholarship for students from 3 ASEAN Member States (AMSs), namely Cambodia, Lao PDR and Viet Nam, to attend the Food Value Chain (FVC) short-term intensive course for 2 weeks at Kasetsart University in Thailand.

Scholarship program to Japan
Japanese Factory-Visit Tour in Japan
This is the scholarship for nominated grantees from all 10 AMSs to complement and materialize the lessons learned through class-room lectures and provide practical and in-depth knowledge on high-technology Food Value Chain in Japan.